Posted by

cafuego

on Wednesday 11 June 2014.
It's been nearly two years since I blogged a DrupalCon road trip, so it's high time for another one. Not that there weren't other DrupalCons in between, but the trip to Sydney was rather short. And although we did drive a fair bit before Portland, we ended up where we started, so it was not really a road trip. To get to Prague we took a train, so that was out too. Thus, DrupalCon Austin.
Prior to moving to Boston, @beejeebus house-sat for us for a few weeks whilst @kattekrab and I were in Prague. Courtesy of the US government shut-down his visa was delayed by several months, so he ended up staying for a fair bit longer and introduced us a scary food show called Diners, Drive-ins and Dives.

We also did a few short road trips around Victoria to show him how pretty it was, and so was borne a plan to roadtrip from Los Angeles to Austin, eating ourselves silly along the way.
To get to Austin from Melbourne, you would usually fly to LAX and then onward for several more hours. Since LAX domestic is pretty shithousenot a particularly nice airport to hang out at, we decided we would like to escape it.
To accomplish this, we planned to meet up with beejeebus who would be flying in from Portland. We would then pick up our rental car and leave Los Angeles as soon as possible.
Unfortunately beejeebus missed his flight, so we were stuck at LAX for three hours anyway, waiting for him. Aaargh! *twitch* *twitch*
Las Vegas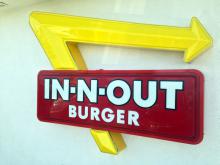 Once you leave Los Angeles, there is mostly desert with the odd strip-mall town, which is convenient for lunch. Inspired by The Big Lebowski and lacking DD&D venues, we decided on an in-n-out burger, which actally turned out to be pretty tasty.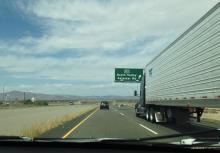 After our lunch stop we hit some proper desert highway, as witnessed by the turn-off to Death Valley and the largest solar thermal power plant in the world.
Apart from that, the only thing to see was desolate landscape (but pretty) and giant bill-boards for casinos and jesus (less pretty). You can spot the Nevada state line from miles away - there's a giant casino built right on it.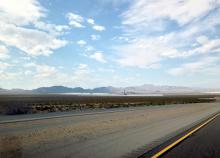 Las Vegas was ... interesting. A modern shiny city in the middle of nowhere and purely there to provide gambling. We drove up the strip, eyeballing all the famous casinos and the people moving between them. This was the start of the Memorial Day long weekend in the US, and Vegas was positively overflowing with The Wrong Kind Of People™.
Horrified, we stopped. After a quick chat where we all admitted to being quite happy to be somewhere else, we decided to give Las Vegas a miss and push on to our next stop instead.
The landscape changes pretty much immediately south-east of Las Vegas - that's where the Hoover Dam is and the Grand Canyon sort of ends. We didn't stop to look at the dam, as the sun was getting low and we had a lot of driving to do, but we got glimpses of the Colorado River as we drove along.
There are a lot of odd conglomerations of shacks and trailers a few miles off the highway for hundreds of miles either side of Kingman. We weren't sure what they were, but were later told these may be survivalists, living in the middle of nowhere. There are a LOT of them though, so they must like neighbours.
They also all have a flagpole with an american flag out the front, which lead to our first imaginary (because driving) drinking game of the trip. Whenever you see a flag out the front of a house, drink.
As a side-note, this flag-in-front-of-house also happens in Australia and I don't understand it here either. Do people get confused about what the national flag looks like so they need constant reminders?
Every other "town" in this area offered the opportunity to shoot an AK-47 for $35 or had a casino. Weird. We drove ever onward to Flagstaff and then to Sedona.
A bush/forest fire had broken out between Sedona and Flagstaff a few days earlier and our hosts had bought an RV were camping in the next town over to escape the smoke. As Australians, we decided we were used to fire smoke and gratefully took up residence in the accomodation offered. (Thanks Megan & Scott!!!) Kattekrab and I had stayed here for a few days last year as well.
Jerome, Prescott and Camp Verde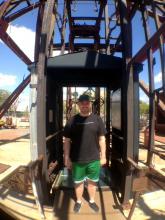 Just like a year earlier, we planned to use Sedona as our base for daytrips to local(-ish) attractions. Unfortunately, Oak Creek Canyon was out of bounds, as that was on fire.
Our hosts suggested we do a little drive into the hills in order to escape the smoke. First to the old mining town of Jerome. This is a very cute little town, with some interesting looking shops and bars. It also boasts the deepest mine shaft on the continent.
Being up in the hills, Jerome offered a rather dramatic view of the Slide Fires north of Sedona. This being the holiday weekend, downtown was overrun by tourists, so we decided to drive over the top of Mingus Mountain and on to Prescott, where we would either visit a whisky bar or press on to Camp Verde to see some native american cliff dwellings and a deep well.
It turns out that to one side of Prescott, there's a beautiful granite formation and we passed through this on our way into town.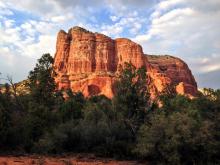 Due to jetlag, we left Sedona quite late and thus got to Prescott pretty late as well. We decided to give the whisky bar a miss in favour of some more cultural pursuits and after buying to insanely hot corn chips to snack on (try to make beejeebus cry by whispering "tacky fuego" to him) we set off to Camp Verde. Sadly, we left it too late and we didn't arrive until just after 5pm. We got a wave from the ranger who had obviously just closed the gate :-(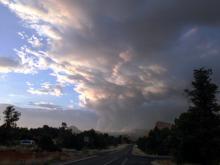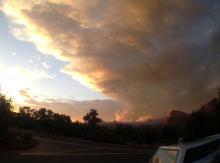 So we decided to head back to Sedona for an early night. On the way, we stopped at Bell Rock just south of Sedona for a leg-stretch and some pretty amazing scenery.
Though beejeebus really wanted to see a snake, we didn't this time around. What we did see was a rather impressive smoke column to the north...
Grand Canyon - Desert View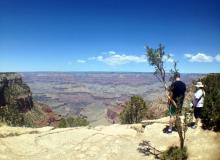 About a two hour drive north of Sedona is the Grand Canyon south rim. Kattekrab and I had been to the village part last year, so this time, with agreement from beejeebus, we decided to drive a bit further and go to Desert View instead. This turns out to have been a good decision, as we got to see a bunch of wildlife along (and on) the road - mostly elk.
Desert View itself is a rather pretty look-out over the wideing eastern end of the Grand Canyon, with mesas in the distance.
An artist has built an olde-looking tower which offers beautiful views of the Canyon, if you can get past the people taking selfies on the narrow staircase.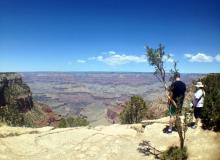 After Desert View, we backtracked a little bit to park the car and go for a walk along the south rim towards the South Kaibab trail head, which is very pretty indeed!
Unfortunately, the trail head itself is extremely unsuitable for people with vertigo. Walking along the start of the trail turns out to be pretty tricky when you aren't able to move your legs.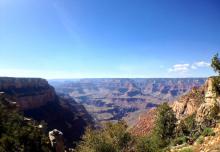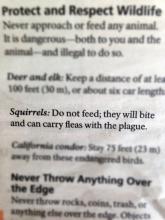 We got our second encounter with local wildlife at the trail head too. A squirrel heard me unwrap a muesli bar and clearly heard that sound before, as it made straight for me.
It is my policy to never feed plague-squirrels though, so it missed out.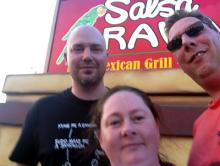 On the way back to Sedona, we hit our first DD&D venue: Salsa Brava. It's a rather unassuming looking place along the highway, but it's packed inside. We had no booking, but luckily we didn't have too long to wait for  a table. After ordering some delicious margaritas, I decided to order "What Guy had" - a navajo fry-bread pulled pork taco. And omg, it was delicious! +10 would go again :-)
Sedona
Due to a wind change, the smoke had mostly cleared for our final day in Sedona and after waiting out the hottest part of the day we decided to climb Cathedral Rock. I'd been up this rock the year before, but kattekrab injured herself and wasn't able to climb the steep middle section that time. It's absolutely stunning though, so happily she got a second chance.
I may have gone slightly overboard with the photos of Cathedral, but it really is very pretty and offers views of the yellow and red mountains all around. We climbed in the afternoon, so got sunset colours at the top and on our way back down.
We finished a rather lovely day with dinner with our hosts at an incongruous german restaurant in Cornville followed by a drink at the local pub, where a scary local discovered we "we'en't from 'round here" ;-)
Winslow (Barringer Crater)
One of the things that has been on my bucket list for a long time is Barringer Crater (probably better known as Meteor Crater). We didn't get to see it last year because we ran out of time. Happily, this year our next stop after Sedona was Albuquerque and the crater is on the way!
Not far out of Flagstaff the landscape changes from pine forest into shrubby desert and becomes pretty flat. That means you can see the crater rim from a long way off and appreciate how huge it is. The rim might not be tall, but it is very very wide!
The crater is privately owned and the owners have built a small museum on the north rim. I ran straight through it for a view of the second largest hole in the ground I'd see on this trip.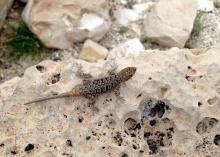 There is a bit of a hill on one corner and from there you get a good sense of the crater and the flat desert landscape beyond.
At the bottom of the crater are the remains of a few drilling attempts (to find the meteorite) and a life-size model of an astronaut.
If the stomping tourists disappear and you just hang out for a while, the locals will come out to say hello :-)
The museum is a bit daggy, but I suppose that was to be expected. Not all visitors are obsessed or would know the history of the crater. I did get a t-shirt though, and various delicious cactus-flavoured margarita ingredients!
The crater is most impessive, but like the Grand Canyon it's so big that it's just impossible to get a good sense of its size when you're standing on the edge.
Albuquerque
Our planned stop for that evening was Albuquerque and kattekrab had enquired about local Drupalistas. @teampoop replied that there was a local tech meetup that evening, so we drove along route 66 all day to get there in time (which we failed to do, as there was apparently a 1 hour time difference between Arizona and New Mexico)
Route 66 was a bit sad, as it turned out. Apart from a bunch of places clustered around very blingy casinos, most towns are now ghost towns or fast on the way to becoming ghost towns.
We were told later that the combination of cheap flights and the raising of the speed limit from 55 to 75mph means that people no longer need to stop overnight at a small town, they can drive from major city to major city in a day. As we did, I suppose. Still, no diner lunch along the way for us :-(  Very pretty country-side though in that part of New Mexico, straight out of cowboy movies.
We didn't have any accommodation booked for Albuquerque, but the Rio Grande had rooms with hot showers and is very nice indeed!
After a quick frshening-up, we headed into town to meet the friendly locals for a snack and drink at beer.js. We didn't talk much about JavaScript, but we did meet @teampoop and @helennoat for a fun evening. Just before we left, we got a breakfast recommendation for the next morning.
And an excellent recommendation it was - Frontier Restaurant. It hasn't been on DD&D, but maybe it should be. The huevos rancheros set me right for the rest of a long morning of driving.
Roswell
For no other reason than to be able to say I've been to Roswell, New Mexico, I decided we had to go to Roswell, New Mexico. So we did. 
Roswell is a pretty normal small town and apart from the UFO museum (we passed) and the odd green alien on a bill-board it looks pretty normal. We went on a bit of a wild goose-chase looking for the UFO crash site (which someone had helpfully added to FourSquare) but that turned out to be the stadium out the back of some religious compound.
It wasn't a total bust though, on the way to the supposed crash site we passed the abandoned old Roswell airport terminal, which was due to be demolished shortly and it made for a lovely photo opportunity :-)
After that detour, we had philly cheesesteaks for lunch at Big D's Downtown Dive (delicious!) before hitting the road again.
We decided to get as close to Austin as wel could that day, leaving a relatively small amount of driving for the final day of our trip.
Leaving Roswell, we could tell we were getting closer to Texas, as the oil pumps started to get pretty thick on the ground. As not many people live out that way, the pumps replaced the flag poles for our drinking game.
There wasn't much to see or do along the way, apart from taking a mocking vanity photo for @texas as the state line, so we mostly just drove, until we ran very low on fuel at Lamesa. Luckily, Lamesa had a service station. Unluckily, it took us four attempts plus the help of a puzzled local to get the fuel pump going :-)
We finished the day's drive at San Angelo, only a few hours from Austin.
San Angelo
What can I say about San Angelo? It has a road.
Actually, it has a road with a classic 60s diner that hasn't changed since the 60s and that's where we a had a disgusting delicious diner breakfast, served by none other than Roxie.
After breakfast we eventually drove down from the desert highlands, past a lot more Drink!oil pumps. I noticed that enterprising oil barons have started planting wind turbines on their oil fields!
As we neared Austin, the vegetation got a lot lusher and greener, which was pretty nice after a week of driving through desert. In the end, we did around 2100 miles in six days. Pretty impressive :-)
Austin
I decided to give the actual Drupal conference a miss, but do a bit of work in the coders lounge/sprint rooms during the day and catch up with people in the evenings.
That gave me a chance to explore Austin a bit in the mornings and eat my way around as required.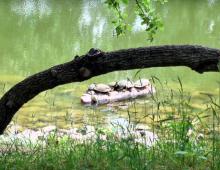 The river that runs through the city, also named Colorado, but not the same as the one that goes through the Grand Canyon (actually, this one seems to start at Lamesa where we had flues troubles) has walking paths along it, and I spent most mornings wandering around there, looking at turtles and graffiti.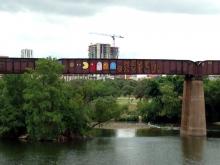 A new walking/cycling track that actually sits on the river was under contruction across from the hotel and I managed to sneak past the construction workers for a sneak preview on Friday :-)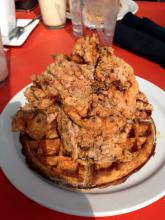 As for the other part, eat I did. A lot of BBQ, at Lamberts, Moonshine and Ironworks. I also finally got the opportunity to sample the famous "chicken and waffles" that @stephelhajj had kept talking about, at Diner 24.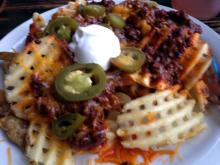 And it was delicious, with maple syrup and tabasco - breakfast of champions! And lunch and dinner too!
Other stand-outs were the deliciously disgusting chilli cheese waffle fries and the nototious p.i.g (a hot-dog with mac & cheese on it) at Franks.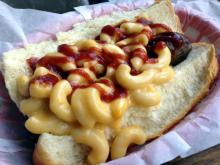 I managed to get beejeebus to one more DD&D venue as well, in Austin. We had very tasty burgers (twice!) at Casino El Camino, which turned out to be just behind the conference center.
Now, back to planning the next road trip!